November 4, 2018
Dear Friends…
In two days, we will exercise our first right of freedom. Five days later, we may honor the men and women who made this freedom possible…veterans who served in the United States Armed Services.
November 11 this year marks the 100th anniversary of the Armistice with Germany to end "the great war." Although the official armistice was signed at 5 a.m., the treaty took effect six hours later…on the 11th hour, of the 11th day of the 11th month, 1918. Scottsdale provides several venues for celebrating this day and recognizing the service of our veterans.
To the east of City Hall stands The Chaplain, a bronze statue of a World War I chaplain sculpted by VFW Post 3513 Commander Austin Deuel and erected in 2009. The city paid for the site and pedestal, but the sculpture was paid for entirely by veterans' fundraising efforts. This veteran's memorial is especially appropriate for Scottsdale, as Winfield Scott was an ordained minister who left his church to lead a company during the American Civil War. In 1882, Scott was appointed U.S. Army Chaplain. This site has become an annual gathering place for veterans' celebrations and somber thanksgivings. (As it will again, at 11:00 am, November 11).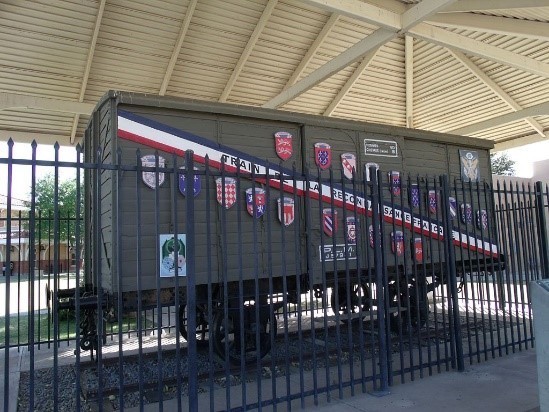 Another poignant memorial to our veterans and all Americans is Arizona's boxcar from the
Merci Train
, also known as the French Gratitude Train. The
Merci Train
consisted of boxcars filled with gifts of gratitude from over six million citizens of France and Italy sent to the United States as thanks for the Friendship Train we sent them in 1947 with $40 million in food and supplies. The
Merci Train
boxcars arrived in New York City on February 3, 1949, then one boxcar was sent to every state. Arizona's
Merci Train
boxcar lay in neglect until a group of Scottsdale citizens, led by community activist Zina Kuhn and Honorary French Consul for Arizona, Claude Prosnier, raised funds to restore it for display. Guy Stillman agreed to have it installed at the McCormick-Stillman Railroad Park, where it was dedicated November 11, 1989. (A veterans' celebration is planned for 3:00 pm, November 9.)
Scottsdale's newest memorial to veterans was dedicated just a few weeks ago, as part of the renovation of our Scottsdale Airport Aviation Business Center complex. Some may remember our airport, once known as Thunderbird Field II, was built to train U.S. pilots (men and women) for World War II aerial combat.
A park-like plaza has now been built in front of the aviation business center to include a Thunderbird Field II Veterans Memorial with information on Thunderbird Field II and its military history. The centerpiece of the memorial is a World War II era 1921 Stearman PT-17, commemorating the rich history of this aircraft and Arizona's contribution to WWII. Thunderbird Field II Veterans Memorial provides tribute to all veterans, preserves the history and culture of aviation in Scottsdale and serves as an educational opportunity for our children.
One of the most moving memorials to visit this year is the temporary exhibit at the
Arizona Heritage Center at Papago Park
,
Portraits of Courage, A Commander in Chief's Tribute to America's Warriors
. Growing out of President George W. Bush's personal commitment and the ongoing work of the Bush Institute's Military Service Initiative, this exhibit brings together dozens of portraits painted by President Bush. Each painting is of a current service member or veteran who has served our nation with honor since 9/11. The individual inspiring story of each warrior's service was written by President Bush. In this collection of portraits and stories, visitors encounter the faces and the hearts of those who answered the nation's call and learn of their bravery on the battlefield, their journey to recovery, and the leadership and contribution they continue to make as civilians.
It has been a great honor to serve the citizens of Scottsdale as Councilman during the past four years. I must acknowledge, though, my service pales in comparison to the service of men and women who have defended our freedom and our right to hold free democratic elections.
It has also been a privilege to campaign for re-election and meet so many new citizens. Several of you have attended candidate forums, been involved in petition drives and worked to make yourself and others aware of the important issues facing our city. All of you are to be commended for your participation in the democratic process so courageously protected by our veterans and so envied by others around the world.
David N. Smith
Scottsdale City Councilman
2018 Candidate for Re-election
"What can you do to help my campaign?"
If you found this newsletter informative, forward it to others with a recommendation they visit my website,
www.CouncilmanDavidSmith.com
, and cast
one of their three votes
for a financial expert on Council.